I'll do this in the form of an interview since I've received so many questions of the last month asking what my deal is. Go with me on this, it should be fine.
Are you still even writing, Kenny?
Sure am. Most days, something is being transferred from my perverted brain onto digital paper. I've been writing for almost twenty years (that makes me sound so old). Writing erotica is part of who I am, so don't worry, I'm here until I'm not.
Things are just busy. Holidays, both my young kids have had birthdays recently. In-laws have visited, and some commitments in my day job have all conspired to rob me of creative time.
So when can we expect something new?
Right now, actually. Max Sebastian and I wrapped up a collaboration at the end of last year—Out of His League—which he just published on Monday. You can find it on Amazon, both in digital form and print (coming soon). I've wanted to do a collaboration with Max for a while because I think our styles complement one another well, and I'm very pleased with the results.
What's Out of His League about?
Guy is insecure about having a beautiful wife who he's felt has always been, um, out of his league. To deal with the insecurity, he developed a hotwife fantasy that grew over the years. In comes someone from his wife's past, and drama ensues. Both characters are forced to confront issues that they've been carrying around for years as they work to make sure they don't lose what they have now. Don't want to spoil it, so check it out.
What else is on the horizon?
A few other things, actually. In March, there will be another Best Hotwife Erotica anthology out. I'm working on my contribution now. I won't give the theme away, but it's a good one (and not centered around a holiday or a season).
I've also got two books in progress. One is a voyeur tale about a couple who discover that one of their neighbors is having an affair…maybe. Intrigued, they spy on her and discover a whole new and sexy world that's happening right beneath the surface of their sleepy suburb. It's a more conventional story than the last couple I've written, but a refreshing break.
The other is…different. I've wanted to write from the perspective of the "bull," or the Other Man in a hotwife relationship, but I could never find a way to make it appealing to me. I write books I want to read, and frankly, to me, the bull is the least interesting part of the husband-wife-other man triangle. That said, I think I've cracked it. This is an origin story, of sorts, and once I got into this character, Paul, I found an angle that really works for me. I won't give anything away, mostly because I'm not sure exactly how I'm going to market this one. But it's the closest thing I've gotten to an erotic romance, ever.
So which is first?
I don't know. I'm jumping between the two. Right now, the voyeur book is winning (titled Following Temptation), but who knows? I certainly don't!
Anything else?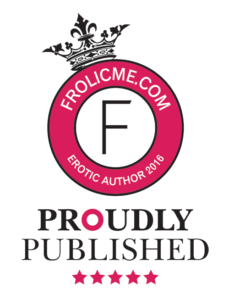 Yes! I finished up a short story for Anna's amazing site, FrolicMe. She did a shoot last year about a hotwife's first time. It's a bedroom scene, in which a woman sits blindfolded in a hotel room as a new lover joins her. It's gorgeous and sensual and erotic and all the things I've come to expect from Frolicme.com, but it had no backstory. I wrote the backstory, and if I do say so myself, it adds a lot of context to an otherwise very sexy scene. There's an excerpt of it here. Need to join the site to read it all.
Thanks for chatting. Can we expect to hear more frequently from you?
Yeah, sorry about that. I did make that resolution, so yes, more from me later, more often. Also, be sure to follow me on Twitter (@kennywriter). I'm on Facebook, too, but don't do a good job updating over there.
Also, I've heard that it's hard to find an email address for me. I had it somewhere, but took it down when I started getting spammed by bots, not because I don't like receiving emails. You can find me at this address (that hopefully won't be spammed): kennywright.writer (at) gmail.com.
Take care and thanks for reading!