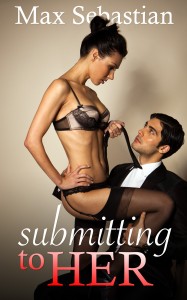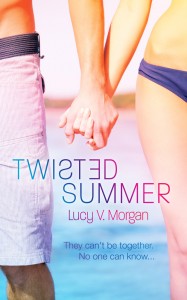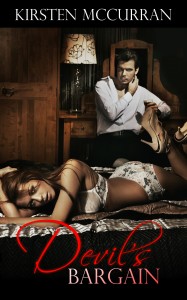 It's been a busy month. In addition to putting the final touches on Just Watch Me and shipping it out the door last week, I've had the opportunity to put together the covers of new books from three fantastic authors.
Max Sebastian's Submitting to Her is a great introduction to femdom (it had me hooked, and that's definitely not a core fantasy of mine). Lucy V. Morgan's Twisted Summer serves up summer love with a side of pseudo-incest in this new adult romance. And Kirsten McCurran delivers a hot one, as always, in Devil's Bargain, a set-up so good I'm seriously considering stealing.
Read the full book descriptions after the break.
Aiden Jones is horrified when a young woman gets his long-awaited promotion because corporate is fast-tracking female college graduates to fill some kind of gender quota in the company.
He stubbornly makes life difficult for his new boss, leading resistance among the sales team. But when she grows tired of it, and offers him the choice between the end of his career and submitting to her absolute control, there is nothing he can do but accept her authority.
Zoey Schoenberg has had a crush on the company's top salesman ever since she started as an intern on the fast-track programme. Now that she has absolute control over him, she's going to really make the most of it – and show him just how thrilling a truly female-led relationship can be.
But Zoey has a dark secret in her past that could threaten everything…
A dark new adult romance…
Eighteen-year-old Danni Warren has big plans for her last summer before college: a cool job, a concert she wouldn't miss for the world, and spending time with her beautiful girlfriend, Esme. But after one hell of an argument, Danni's mother packs her off to stay with her estranged step-uncle, Gabe, in his lodge on the English coast. So begins a weekend of the worst punishment imaginable: no phone signal.
With his sun kissed good looks and sarcastic manner, twenty-nine-year-old Gabe Asher isn't anything like Danni expected. She wants to hate him—he's her punishment for standing up to her mother—but between surfing lessons and beach hikes, Gabe and Danni grow close. Maybe too close.
Now Danni's questioning everything: old family secrets, her future, her strained relationship with Esme. One sun stained afternoon, Gabe and Danni go too far. And then everything else falls apart…
Two stories in one book! Jen thinks she has the perfect gift for her husband Caleb's 40th birthday–the threesome he's always wanted. And she thinks she has the perfect candidate for it–her good friend Brianna. Brianna agrees to join the couple for their night of fun with one caveat. Jen has to engage in a threesome with Brianna and her boyfriend, the hunky Frankie, and anything Brianna does with Caleb, Jen will have to do with Frankie. At first Jen says, "No way!" But when Caleb says that they should do it, that he'll just sit back and watch, they strike the Devil's Bargain. But when faced with the ultimate temptation, can Caleb really hold back? And if he can't behave himself does that mean his wife will have to go off and be with another man? Devil's Bargain is a novella told in two parts. Caleb relates the tale of the first threesome, while Jen picks up the story when she goes off to be with Frankie and Brianna. It's a hot, erotic tale told from two sides!