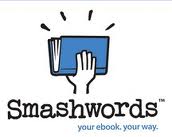 At the end of 2013, Smashwords announced that it would support the direct upload of EPUB files through a service dubbed Smashwords Direct. This is huge–definitely worth my redundant blog post here. Smashwords has always been a champion of the self-publisher, but it required your story be uploaded as a Word .doc, and then subjected to something called the "Meatgrinder." That requirement is now gone. Hooray!
Personally, I'd stopped publishing on Smashwords because of the hassle of reformatting all my books into Word. The amount of time that took versus the sales I was seeing wasn't worth it. Now, I don't have to worry about that. In celebration of this, I've published Naughty But Nice for free, in addition to posting Leap and Rediscovering Danielle at their regular prices. Grab it now (or later, because it's going to remain free for the foreseeable future).
One of the best things about Smashwords is that it distributes the titles to a variety of vendors (including the Apple iBookstore). Additionally, it's one of the only ways to get something listed for free on Amazon (by publishing a free story to B&N and have Amazon price-match it). I've had mixed results with this, but hopefully Naughty But Nice will be free by next Christmas.
If you're an author looking to take advantage of Smashwords Direct, you're still going to need to tweak your epub file a little to get it into Smashwords compliance–just getting your epub file to validate properly isn't going to be enough. Like the Word document, you need to mention that this is a Smashwords edition in your copyright field. This is as easy as adding a quick edition line. Here's a part of my copyright page for Leap:
Leap

ALL RIGHTS RESERVED
Leap © 2012 Kenny Wright

Edited by Lucy V. Morgan
Cover design by Kenny Wright
Image licensed from istockphoto.com

First digital edition electronically published by Kenny Wright, August 2012
Smashwords edition electronically published by Smashwords, January 2013

[italics added for emphasis]
And that's it. Just save the new edition, upload it as you would before (but pick the epub file rather than the Word doc), and it should be available. You can also replace your older, Meatgrinder books with shiny new epubs in the same fashion.
All in all, this is a great change. Bravo to Smashwords for listening to their users and putting it in place.