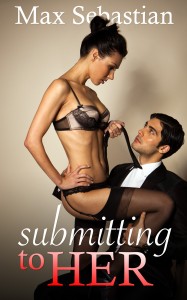 Let me start off by saying this: femdom isn't my erotica genre of choice. In fact, it wasn't even an erotica genre for consideration in my mind. Submitting to Her changed all of that.
Max Sebastian has outdone himself. I was a big fan of his first full-length novel, Anarchy of the Heart (which anyone who enjoys wife-swapping, wife-watching, or swinging stories should pick up right away). I'll admit that I was a little disappointed when I learned that his next contribution would be a femdom romance. Man, was I wrong.
Submitting to Her follows Aiden Jones as his world gets upended by his new boss, Zoey Schoenberg. She shows the career bachelor what life is like with a dominant female planted squarely in it, and gives him a lesson in love along the way.
As he says on his blog, "while there is a lot of female-dominant sex in this book, some denial play, bondage and even some group sex, this is fairly light BDSM, fairly light femdom on the whole." It's femdom for beginners (or for those like me who might not be into anything heavier). What surprised me was that Submitting to Her struck a lot of the same chords that a wife-watching or mild cuckold story hits. It makes sense, though: you've got a strong female driving the story and a "weaker" (although not wimpy by any means) male setting his own desires aside for his lover. For this reason alone, I encourage anyone who's a fan of Just Watch Me or Leap to pick this one up. You'll be pleasantly surprised.
Anyone who knows me knows that romance is an important element in my erotica. Submitting to Her drives this home on all cylinders. This is a story of discovery, not just for Aiden and his acceptance of a submissive role, but of his capacity for love. As Aiden falls for Zoey, so does the reader (at least this reader). Both Zoey and Aiden grow a hell of a lot, both within themselves, and together as a couple. It's a thrilling thing to watch unfold, and Max writes it masterfully.
Little known fact about me: I don't read much erotica. When I'm not writing it, my tastes usually drift to more contemporary, non-erotic books. Max Sebastian is now officially one of the few exceptions to that rule. I couldn't put this one down, and when it was over, it lingered with me like a happy memory. It was one of those books you want to race through, yet don't want to end.
And for those of you coming here looking for "erotica for men," I'd definitely bookmark this one (along with the above mentioned Anarchy of the Heart).
Thanks for sharing a glimpse into the world of Aiden and Zoey, Max, and thanks for opening my eyes to the eroticism of femdom.
Still not convinced? You can read the first of three parts of the book for free on Smashwords. Links below: