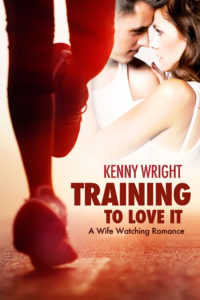 This one's been a long time coming (if you've followed this blog or social media). Training to Love It is finally getting published. It'll be out on September 30, only on Amazon.
The blurb:
Can a wife-watching fantasy be trained?
When Erin comes home from the gym and let's slip that her new personal trainer is a man, Tom doesn't know how to react. When he overhears Erin admitting that she's attracted to AJ, her trainer, he becomes even more confused. He wants to be supportive, but he feels jealous. He wants to be understanding, but he doesn't even understand his own feelings. Every time he thinks of Erin with AJ, his heart begins to race. Every time she says his name, his breath catches in his chest.
AJ ends up pushing more than just his wife's physical limits. As Tom watches this newer, stronger, more assertive woman emerge with each training session, he realizes that this other man is pushing the limits of their marriage and their happy life. How far would they go for a fantasy? And whose fantasy is it? And what happens when things go too far?