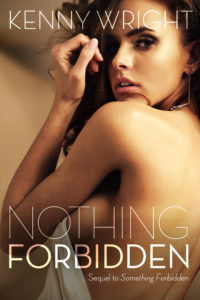 Nothing Forbidden comes out on November 20, but you can pre-order it today over at Amazon.
About:
Max and Katie have tasted something forbidden, opening their marriage sexually to other people. It's been a wild ride, and they are stronger for the experience. Max craves more and gives his headstrong wife the green light to play on her own–even as she vows to never risk their relationship again. But is that a promise she can keep in her new world of sexual freedom?
In this sequel to Kenny Wright's Something Forbidden, follow Katie as she explores the new and exciting world suddenly open to her. When nothing's forbidden, can she keep touch with what's real, what's important, or will it all slip away?