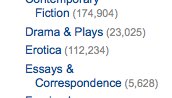 Amazon has one singular category for erotica. As of this writing, that category has 112,234 titles in it. That's a lot of browsing, just to look for something that meets your tastes. Search is hit or miss, right? Sometimes, I put in the proper keywords and presto, I get exactly what I'm looking for. Most of the time, I'm either turning up the same titles I've seen before, or getting results that baffle me.
I've long wanted to create an affiliate site just to put a layer of meta-data on top of Amazon (and other sites, but Amazon has the biggest catalog). Maybe one day, I'll get there. For now, though, I've teamed up with fellow authors Kirsten McCurran, Max Sebastian, and Ben Boswell to create a stop-gap solution: eroticaformen.com.
I'm not going to get into the existential debate of whether there is such a thing as "erotica for men." Max Sebastian does a good job explaining the rationale on his site. Here's a peek:
[T]he point is that this site isn't saying what male erotica is, what all men want to read in erotica, or that this is just for men. It's trying to be a positive thing, stating that men like quality erotica too, and at the end of the day we're looking for similar things in our erotica to women. [read the full article]
The take-away: while the site name does have "men" in the URL, it's not exclusively for us guys. And while I do take the discussion seriously (and have not only hashed that out here on this blog, but devoted a section of my blog to the topic), this post is just to get you to check out the new site. I'll make a nice, big call to action so that that's clear:
What we're hoping to create, in this initial push, is a resource for you. Is it helpful? Are you able to sort through our books to filter down to what you're looking for? Send us your feedback, whether you're a guy or a girl. It's in its infancy, and there are many more features we'd like to build out, so this is your chance to help us prioritize.
Thanks and enjoy!