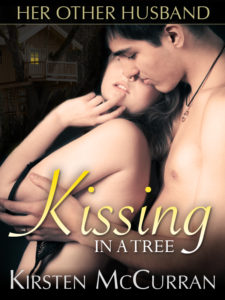 My cover art portfolio is getting to the point where I need to consider just that: an actual portfolio. Here's the latest. Pretty sexy little short, too.
After her reckless behavior in the first Her Other Husband story, "A Snap Decision," Kelly can't get her longtime friend Danny off her mind. She's confused that she doesn't feel guilty for cheating on her husband, and her confusion grows when she realizes she wants to be with Danny again. After a hot sexting session gets her primed, Kelly agrees to meet Danny late one Friday night for an encounter in one of their childhood haunts, the backyard treehouse!
The short story, "Kissing in a Tree," is the second in Kirsten McCurran's "Her Other Husband" series. It's naughty. It's dirty. It's quick. And it's only .99. Oh, and it has a kick ass cover, designed by yours truly. It's available at Amazon and Barnes & Noble, so pick one up for your Kindle or Nook.
I know for a fact that there will be one more in this series.