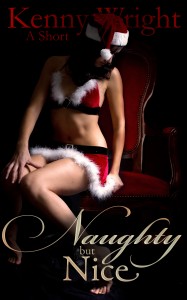 I love Christmas time. I won't go so far as to say that it's the most wonderful time of the year since I make it a habit not to compare the different times of year, but it's up there. It also tends to lend itself to erotica and erotic romance plots–at least to me. I've already written one (Observing Christmas Traditions), and have a longer piece in the works (look for Midnight Clear one of these Decembers). I've got two more brewing in my head, although they'll have to wait until 2013, most likely.
One of these days, I'll do a compilation of my Christmas short stories. For now, you've got Naughty But Nice. It's a shorty, but hopefully a goodie. Available over at Amazon and Barnes & Noble.
Dan was resigned to a Christmas alone. He told himself it was fine, that experiencing the holidays through the smiles of others was enough. But on Christmas Eve, the prospect of life by himself without the magic of the season was crushing. And then she walked into Santa's shop, one last present to unwrap before the holidays came to an end.