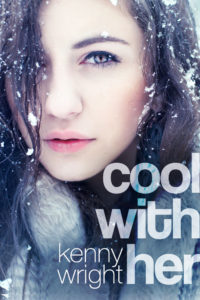 Hey, look at that, I made my self-imposed deadline of March 1 to get a new book out in 2014. My novel book, Cool With Her, is available exclusively on Amazon (at this time), so head on over and pick it up.
This piece of erotica (and it's definitely erotica) is heavily inspired by the snow-filled winter we seem to be having (here in the states), although it was started well before the snow started piling up. Quick teaser: five friends get snowed in together while celebrating one of their birthdays; they're close, but they get a hell of a lot closer by the time the snow melts. (Read the full blurb after the break, or on the book detail page.)
Fans of All In: Strip Poker Done Right should like this one. While there are no cards involved, there are sexual bets made on beer pong and a made-up game that's a mixture of Truth or Dare and Never Have I Ever. As you may know, I'm a big fan of erotic games in stories to help break down inhibitions and get characters to be naughty. This one's no exception.
Also, fans of Casey from Unconventional (of which I'm one) should know that she's one of the five. So if you're curious to learn more about what happened following the Vegas-based story, this should give you a few clues.
Pick it up on Amazon now. If you've got a Prime account, you can even borrow it for free. The paperback version should be available in a week or two.

Five friends bring their naughtiest fantasies to life.
How well do you know your closest friends? Or even your spouse? When Jason and Beth Warner get snowed in with three of their closest friends, they learn there is a deeper, sexier side people keep hidden…even from themselves. 
As the snow piles up, these five friends confess their secrets and desires. They share their kinkiest adventures. And ultimately, they share themselves with an abandon they never knew possible. From voyeurism to wife-watching to group sex, they push their boundaries and cross every line they have. 
Find out what happens when five sexy twenty-somethings get trapped together with a week's worth of liquor and nothing to do but party.