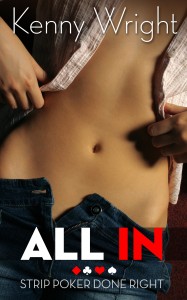 Do you think that there's no skill in strip poker? That it's all luck–a silly way to loosen inhibitions and remove clothing? Then you've never witnessed strip poker played the right way. In All In, three couples try to outplay each other past their limits, their clothing, and the secrets of their pasts. If you love erotic gaming stories (e.g. strip poker, truth or dare), group play, or the love-hate dynamics between old friends, take a chance on All In: Strip Poker Done Right.
Play strip poker? Ben never thought he would. Not with his wife, Amy, and especially not with their asshole friend, Scott. Lawyers all three, they were more likely to strip their opponents of pride, not clothing.
Not that Ben wasn't intrigued—especially in the company of two attractive couples with a history of flirtation. He'd love to see either woman naked; he just wasn't sure how he felt about the guys ogling his wife. But when the wine begins to flow, inhibitions loosen, and clothes start coming off, he discovers a part of himself that's turned on by the attention Amy commands.
Soon, the three couples are caught in the throes of high-stakes poker. Secrets come out, things get wild, and Ben discovers a side of his wife he never knew existed.
Available on Amazon and Barnes & Noble. Coming soon to All Romance and Smashwords.