I originally wrote the following in the Foreword of my latest book, Following Temptation, but since not everyone reads forewords (or, heaven forbid, you haven't picked up the book yet), I'm reproducing it here, because I think it's a pretty cool idea.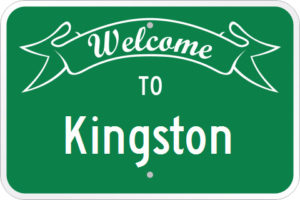 …I want to talk about shared universes. For those of you who are comic book fans (or pretenders, like me, who watch the movies and shows and read Wikipedia articles about the actual comics), you know that Marvel has done a great job with this. For those of you who don't, the gist is that movies (and shows) share characters between them. The Iron Man movie preceded the Captain America movie and the Thor movie, but they all teamed up in the Avengers.
I've done a lot of writing with Kirsten McCurran over the years. I admire the characters she creates and the books she writes. She's a sounding board like no other, and at some point, we decided to start borrowing each other's characters and burying them like easter eggs in our stories. AJ, from Nothing Forbidden and the Training to Love It books, for example, was also mentioned in Kirsten's Hot Dates series. It was a fun dip into a shared universe, so we decided to take it further and create a town together. And thus, Kingston was borne.
You'll read plenty about Kingston in Following Temptation, so I won't go into great detail about what it's like other than to say it's a generic town set just outside an unnamed city somewhere on the East Coast. It's got parks, it's got a Main Street, it's got a farmer's market and food and wine festivals, and apparently, it's got a lot of married people doing some very naughty things.
Other stories set here (all written by Kirsten, who's just too prolific) are Bound by Two, Halloween Swing, A Swinging New Year, and Brooke's Revenge (found in Best Hotwife Erotica: Caught!). I've got others in the works, and even Max Sebastian may be getting in on the hot Kingston action. The overlaps aren't blatant, and it's not critical to read all the works to appreciate this book (or any of the above), but it should be fun for fans looking for a little extra something. So that's Kingston!
I've actually gone ahead and compiled a tag over at Hotwifebooks.com for all the Kingston related books. More will be cropping up, so I hope you enjoy!
Oh, and just so you know, I put easter eggs in most of my books, and they're not all about Kingston. Nadia from the Forbidden books, for example, may just be popping up in my next Max Sebastian collaboration.