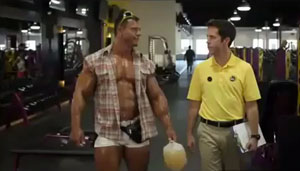 "I lift things up and put them down." If you haven't seen that commercial, watch it, you'll laugh. That's me, in a nutshell. Well, not physically me — substitute weights for stories and muscles for, erm, writing ability? (My analogy breaks a little, but screw it.) I lift up new stories, start them, and put them down. And most of the time, I put them down incomplete.
Why do I do this? I'm not sure. I'd like to say it's a recent thing. That maybe it has to do with getting too caught up in the meta aspects of writing (genre, heat ratings, audiences, personal brands). But it's always been like this, ever since I started my very first story. I lack focus. I jump around in a story. A new idea forms out of no where and suddenly derails the current project (my apologies to Daniel and Alexis and your budding, cross-Heavenly romance).
That said, I think that I've grown as a writer. That meta-stuff is sometimes useful, especially when it aligns nicely with choices you like. Erotica, it seems, is hitting a heyday, thanks in part to the accessibility of digital media. Erotic(a?) romance is no longer confined to stories of happy endings and metaphor heavy love scenes. Readers don't shy away from the word "cock" and "pussy" and that is a fantastic thing for an erotica writer.
I could also blame my capricious writing ethic to not having enough time, but that's kind of bogus. I could have it if I wanted it (and I'm not even talking about cutting out family time — that video game didn't really need to be played until midnight, and really, is this blog entry that important?).
So where does that leave me? Hopefully not being shown the door, like our muscle-bound friend above. Like I've said countless times, I have so many things that are so close to being finished. I just need to find traction with them. And to find traction, I need to be into them. And that is the subject of a whole different blog entry.