If you're searching for erotica (or erotic romance) on Amazon.com, chances are you're missing out on a chunk of titles without even knowing it. Read on to find out how (and maybe a little of why).
If you're an erotica author, this post isn't for you–you should already know about Amazon's nebulous policies regarding publishing and how they can have a huge impact on your sales (and if you don't, then you must read Selena Kitt's Survival Tips for the Pornocalypse). My post is for readers and consumers searching for sexually titillating tales for their Kindle, and a few things you probably didn't know are limiting your ability.

First and foremost, when you're searching for erotica (and I use this word in the most general sense–erotic romance also applies), if you're searching "All Departments" (that little drop-down to the left of the search bar, see the image above), then you're not getting the full results. This is because Amazon marks certain books with what's commonly referred to as the ADULT filter. Books marked ADULT will not appear in an All Department search.
Now, you might be thinking that you're OK with that distinction–that what's marked ADULT is equivalent to that little room in the back of the video store where all the XXX is kept, right? Wrong. Thing is Amazon has started applying that filter seemingly arbitrarily, and as far as I can tell, it has nothing to do with the content. If it did, then 50 Shades of Grey would be slapped with it, along with thousands of other titles.
But let's give a slightly more obscure example (and I hate calling out other authors, but I doubt this book will ever get filtered). Take a look at the cover of J.C. Creed's Surrender Your Love. To me, that's pretty suggestive. We don't even have to get arbitrary to identify that there's a male ass crack on the cover of that best-seller, and I don't think those two are just hugging, do you?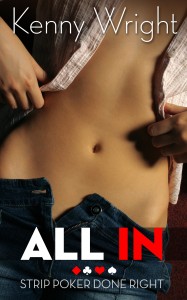 Here's one of my covers that was recently marked ADULT (I've redone the cover and it's now in compliance with Amazon's standards–thanks for your help and advice, Selena!). Tell me that the original is more mature than Surrender Your Love and you and I would have very different definitions of mature.
Leap has also undergone a cover rebranding (see my cover gallery for the before and after), along with a few of Kirsten McCurran's books, including A Devil's Bargain, which is ludicrous.
So how do you avoid filtered search results?
There is no secret toggle in your account settings that you need to uncheck. All you have to do is make sure that when you're doing your search, you select "Kindle Store" or "Books" and you should get unfiltered results (as of this posting, anyway). Easy enough, right? Thing is, since it's not stated anywhere and most people will just search the default category (i.e. "All Departments"), they're missing out on things that Amazon has decided aren't appropriate for them.
Want to know if something has been marked as ADULT before buying? Well, on that front, you're mostly out of luck. Like their policies and decision making process, Amazon has kept that distinction largely hidden from reader and author alike. The best you can do is search for the book title and author name in "All Departments" and see if it comes up. But I wouldn't bother. Like I said, the filter is pretty arbitrary.
Even more unfortunate is the fact that books marked ADULT will not show up on the "Customers Who Bought This Item Also Bought" section of another book's details page. Personally, this is how I often find new gems. Like I said, there's no toggle to turn this off, and there's no trickery to get them to show up. My only advice here would be to browse the author's page if you liked his or her work, since those pages will show full results.
Think this practice has no impact on you, the reader? Think again. I recently posted my sales chart for All In on my Facebook page. I had a huge dip right around the time it marked ADULT, and only recovered after I'd revised the cover and had the filter removed. If I'm not selling volumes, then people either decided en mass that strip poker wasn't for them, or they weren't finding the story any more.
So the short of it: when doing your keyword searches, make sure you're searching the "Kindle Store" or "Books" departments (seems that Amazon has recently removed the tags display from the details page). Beyond that, you'll have to go to other sites for more granular categorizations (GoodReads and the like).
If you've got more tips, please share them in the comments. Happy reading!