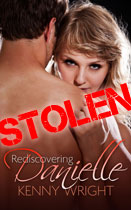 Plagiarism and piracy are sad realities in the new world of self-publishing. I used to think that it was mostly limited to "entrepreneurs" stealing stories off free sites like Literotica and Eroticstories.com and selling them through KDP (see my blog post "Amazon pirates will probably steal your erotic stories"). Alas, the e-pirates have gotten bolder as the promise of more money hangs out there. Dark erotica author Skye Warren had her books ripped off directly from Amazon (they even used her author name in the title). And very recently, someone alerted me that Rediscovering Danielle had be "repurposed" in a hotwife anthology without credit given.
But this particular tale has a happy ending (we all love a good HEA, don't we?).
First, the discovery. It was a reader who initially alerted me to the plagiarism, and after looking into it, sure enough, "Texting in a Bar can be Dangerous" was Rediscovering Danielle with a few modifications to the characters' names (and a really bad title). This particular author, "Jamie Vickers", has about a billion anthology books that cover the hotwife/cuckold genre, all mysteriously published in 2013 (the guy sure is prolific). I can only attest to the one story being plagiarized, but there's something fishy about that rate of production.
So what did I do? I reported that shit! At the bottom of a page in the feedback box is the question: "Do you believe that this item violates a copyright?" Since I did, I clicked it, had to fill out a seriously large amount of personal information, and off the inquiry went. I honestly didn't think anything would come of it, but I actually got a pretty swift response. Unfortunately, it was basically a "sorry, you're out of luck" email. Troubled since the copyright offense was so obvious and done 100% on their own marketplace, I wrote back a terse, "I don't understand, he's stealing my book! On your site!"
Again, I didn't expect to receive anything, and didn't…for about a week. Then, I got this delightful email from Garth at Amazon:
Thank you for your e-mail.  We have disabled the ability to purchase the Kindle title you reference below.  The detail page may still exist for a period of time, but the title is no longer searchable on our site.  We trust this will bring this matter to a close.
Sure enough, that particular volume is gone, so personal justice was served. I also received an apology from Mr. Vickers' publisher (yeah, it seems odd to me that he had one, too) with assurances that they'd look into the matter.
But the happy ending extends beyond my microcosm. Browsing Amazon just now, all of Jamie Vickers' stories are gone. I like to think that Amazon Garth and I played hero to all the unwitting erotica writers out there getting ripped off and not even knowing it. Maybe they don't care. All I can be certain of is that someone was getting something they weren't entitled to, and now they're not. And that's about as HEA an ending as I ever expect from the retail juggernaut.