Okay, everyone, got a few things coming up in the next couple month, including a couple of my own books. But first things first, I wanted to express my sincere gratitude to all of you who've helped make March my best month as a writer to date. Cool With Her held in the Amazon's Top 100 books in Erotica for over three weeks. I literally could not have done that without you, so thank you, thank you, thank you.
Now for the new stuff!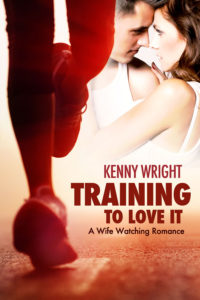 First up, and most excitingly, is my next novel—and it's a long one. Training to Love It is a wife-sharing romance that follows Tom Hargrove, his wife, Erin, and Erin's personal trainer, AJ. No blurb yet, but you can probably figure out the details from the cast of characters alone. Basically, Tom and Erin have a wonderful little life out in the suburbs, two kids, comfortable income level, neighborhood friends. Erin joins a gym to get back into shape, meets AJ, falls in lust for him. This one's sort of a more complete version of Ian's Obsession, with some Something Forbidden thrown into the mix. The twist here is that unlike Ian or Max in those books, Erin is the one in control, and it's Tom who must "train to love it."
Training should be out in the next couple months. I'm shooting for the end of April, but no guarantees. Life keeps getting in the way.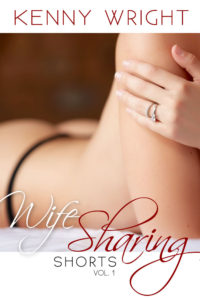 My other book is an anthology of short stories, called Wife Sharing Shorts. Between books (and even sometimes during), I've been crafting short (5k-10k word) stories. Most of them revolve around my favorite theme of wife-sharing and it occurred to me that rather than just keeping them for myself, I could compile and publish them.
Currently, I've got three shorts written for it. I'm aiming for five, and have ideas for what those other two will be. One will feature a little more of Linnea Sorenson from Unconventional, since I've enjoyed her character. I've also got a bonus short from Max Sebastian, which he was generous enough to offer.
If you guys have ideas you'd like to see, or characters you'd like me to revisit, leave a comment here, or shoot me an email. No guarantees, but I'm always keen on hearing what my readers enjoy and want more of. I also happen to like cross-over stories (Casey is quickly becoming one of my favorite characters).
Beyond those two, I've got a ton of story ideas in my head (and my idea file). I'm focusing on these two, but keep watching this space for more details later on.
Okay, other things going on. Max's beginning-to-end epic of a wife-watcher, Madeleine Wakes, is now available in its entirely. If you missed it, check them out:
All three will be available in print as one book (over 600 pages!). I'm working on that project now, and will post when it's ready.
Beyond that, Max is hard at work on his next offerings. In addition to the short you'll read in my anthology, he's got a couple others that are sizzling. He's also putting together a crime thriller erotic series that will be published as a serial over the next half year or so.
I've also read a first draft of Ben Boswell's next book, Whatever It Takes. It's very different than Two Sides of Terri, but also very good. This one features a heavy amount of non-con sex, so if you're squeamish in that regard, it might not be for you. I should add, though, that I'm not a fan of non-con myself, but when I finished the book, I was very glad that I read it. It's a real thriller, and underlying all the suspense is a powerful romance between a husband and wife who'd started to drift apart. Great stuff.
So, as the subject line suggests, lots of good things coming soon. Stay tuned here for more news. Sign up to receive updates and it'll be even easier (signup is on the right rail). I don't spam that list. All you'll receive are notifications of new posts on this blog.