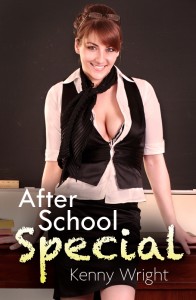 You've got the whole weekend ahead of you. Think of all that time you have to devote to reading about sexy teachers and the naughty encounters they could get up to with former students. Do it now for free.
Now through Sunday, February 17, After School Special is free to download for everyone. Still unsure? Here's the book jacket:
When Andy's friends convince him to visit a strip club in their final summer before college, shy Andy has a few things to worry about. Running into his history teacher, Ms. Fischer, was never one of them.
Moonlighting as a cocktail waitress at a strip club, Hayley Fischer is just as freaked out as Andy when her former student walks through the door. Is this a nightmare scenario for both? Or possibly a dream come true?
If you like it, please remember to leave a review on Amazon. A review is worth a thousand thank yous.
Still want more? Check out No More Lonely Valentines, just released yesterday for V-Day.