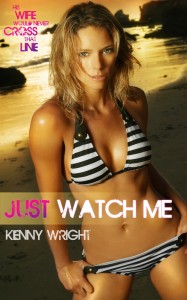 Just Watch Me is the loose,  novel-length sequel to Rediscovering Danielle. Dean and Danielle are back in this tale of wife-watching and more. Watch this husband and wife push the boundaries of their marriage on a fateful trip to Hawaii.
Fans of Rediscovering and newcomers alike should find something to like as we watch Dean and Danielle. Reading the short story isn't necessary, although you'll get a little more out of the sequel if you have.
If all goes smoothly, Just Watch Me should hit Amazon and Barnes & Noble in the latter half of April. Check back here, Twitter, or Facebook for more news. Or, you could sign up to receive blog updates (see the right side).