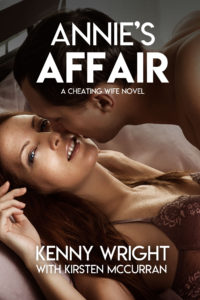 My first book since last May is now available at Amazon (for your Kindle) and Smashwords (for most everything else), in ebook format. Look for it at Apple, Barnes & Noble, Kobo, and any others in the next few weeks, along with the paperback version, for those of you who like to read physical books.
This one's different. This one's about an actual affair, and not in the fun, game-like version of it. It's heavy, and hopefully hot, and by far the longest single novel I've ever written. Hope you like it!
Description after the break:She cheated. And it turned him on.
Travis never thought his wife would cheat on him. Never considered it once in nineteen long years of marriage…until Rick entered their lives.
Travis never thought an affair would turn him on…until he found Annie's diary and started reading about his wife's attraction to her new, younger editor. Confident and attractive, Rick made his intentions clear. He wanted Annie, and she responded. She was tempted. She was attracted. She was conflicted.
Suddenly, Travis is able to see Annie the way Rick does—the way he used to before his perception was dulled by the long years of marriage. Annie is an attractive, smart, fun woman, with an adventurous side ready to be unleashed.
Travis never thought he'd want to watch his wife sleep with another man…until he did. And then it became his obsession.
Annie's Affair follows Travis as he witnesses his wife fall into the arms of another man, and becomes just as complicit in the betrayal as his wife.