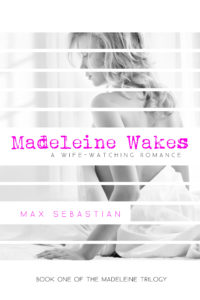 It's been a busy few weeks for me. Not only did I put out a new book of my own (Cool With Her), but I've designed a slew of new covers and, more exciting, published a second book under the KW Publishing imprint: book one of Max Sebastian's epic wife-watching tale, Madeleine Wakes.
This one's good, guys. Max gets it. He gets what the wife-watching subgenre's all about (at least the side of it that I enjoy). He understands that no matter what happens, the heart of the fantasy is the relationship between husband and wife.
The Madeleine trilogy is a slow burn, for sure, but anyone who is a fan of my books will fall in love with this saga. The first in the series explores the inception of the fantasy and it's voyeuristic roots ("watching" is in the name for a reason). The next two, Madeleine Plays and Madeleine Strays take the fantasy to it's natural–yet still surprising–conclusion. Oh, and it's not split into three parts without reason. Each part is longer than most erotica out there; combined, it's a sweeping tale.
Seriously, I'm not sure why you're still reading this blog post. Go and buy it. You can even borrow it for free if you're an Amazon Prime member (you are, right?).
Book description after the break.
Book One of the Madeleine Trilogy
His wife flirts with other men.
And he likes it.
Hugo and Madeleine Finnell move to New York looking for a way to end her depression–a bleakness so deep it's left their five-year marriage in tatters. The change in scenery helps almost immediately. Madeleine crawls out of the solitude of the past three years a new woman. A sexual woman.
The woman Hugo first fell in love with.
But Hugo isn't the only man who notices. He watches from the sidelines as others begin flirting with his wife–and his wife flirts back. Shock, jealousy, and much to his surprise, arousal buffet Hugo as he witnesses this sexy side of Madeleine come alive. Can he stop her as she starts taking things too far? Does he want to?
Find out what happens when a husband becomes a voyeur to his wife's emergent sexuality. Find out happens when Madeleine wakes.