The second volume of Best Hotwife Erotica is available, exclusively on Amazon, for just 0.99 (or free if you've got a Kindle Unlimited account). Five great authors, five sexy Halloween-themed short stories, this deal is scary good (sorry, couldn't resist).
This time around, a few of us tried an experiment. Three of these stories take place at the same Halloween party, on the same night. It all kicks off with Kirsten's Blank Canvas short.
Details below: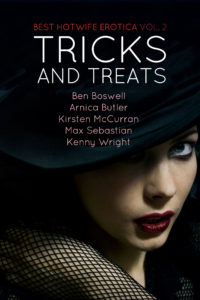 Volume 2 from the five hottest authors in the hotwife/swinger/cuckold genres is here. The wives in this collection from Ben Boswel
l, Arnica Butler, Kirsten McCurran, Max Sebastian, and Kenny Wright  embrace their sexy side for Halloween—and sh
ow just how naughty they can be.
Warning: in this anthology you'll encounter seductive ghosts, wicked witches, sexy stewardesses, straying wives, and their husbands turned on by their forbidden behavior. Be prepared for sleepless nights as these spooky, sexy tales haunt and arouse you!
This collection will remain priced at $0.99 as a treat for faithful fans of the unfaithful, and as an enticement for readers who want to try something new. We hope you enjoy the second, wicked volume of Best Hotwife Erotica!