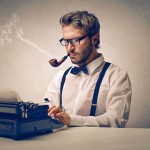 In addition to receiving some great feedback from my readers, being an erotica author has introduced me to some other amazing fellow authors over the years. I've had the pleasure of working with Max Sebastian, author of Madeleine Wakes, for more than a year now, and am always impressed with how powerful his work can be, but also how thoughtful a writer he is.
Who is Max Sebastian?
I'm an erotic author from London, England, who has been writing steamy tales since the late 1990s, but only went semi-pro in the last few years. In real life, I'm a thirtysomething freelance journalist who juggles his work with being a stay-at-home dad.
Why erotica?
The big thing for me in writing fiction is to write something that affects the reader emotionally. I guess I could have been a horror author, like one of my big influences, Stephen King. But what I discovered as a young writer is that sex is something I could write about with a little authenticity—and it can be such a hugely positive thing. It excites people, brings them together, makes them feel good. I've always thought: why does our culture therefore censor this so much, when you can go out there and write about grisly violence and murder to your hearts' content and somehow be accepted in the mainstream.
What sub-genres do you gravitate towards?
I've changed as a writer since the early days, when it was all very sweet and romantic stuff, laced with explicit sex. I guess we all write about what we know, and in those days all I knew was that I wanted to meet the woman of my dreams, and it hadn't happened yet. So I wrote lots of stories of young love back then.
My renaissance came some time around 2010, after revealing that I wrote erotica to my wife, and one of the first things she said to me (a little shockingly for me at the time) was that in her opinion, my stories were "a bit tame".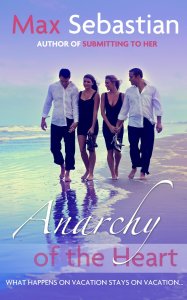 As a response, I guess I set out to try and shock her, and challenge myself to write outside my previous comfort zone. The first of these stories was Anarchy of the Heart, a full-length novel about a soon-to-be married couple on vacation in Europe, who try a little partner-swapping with another couple they meet out there. As I wrote, what interested me was the psychological journey the couple goes through when embarking on that swinging arrangement—for my protagonist, the adventure wasn't just about the fact that he got to sleep with another woman, but also the fact that he was giving up his beloved fiancee to another man, albeit temporarily.
Following that, I became interested in the wife-sharing sub-genre, where husbands are excited by the prospect of their beloved wives going out into the wide world for no-holds-barred sex with other men. It's a very complex kink, with different men having different motivations for wanting their wives to stray—and with wives being the complicated creatures they are, it offers plenty of interesting storylines for erotic writing.
At the same time, I've always been interested in power dynamics within couples, and I've always been drawn to strong, intelligent females—hence an interest in femdom erotic fiction, which I explored in the book Submitting to Her. At some point I'll get back to writing some more femdom erotic romance. I think there's a chance I'll want to attempt something about a submissive female character, but only if a story idea particularly grabs me.
You mentioned your wife. What does she think of your hobby?
When I met my wife, I figured that I was done with erotic writing. I mean, she really didn't seem like the kind of person who would approve of such a thing. It was a while before I admitted my dark secret to her. How she reacted to the news that her husband was a secret erotic author was quite a pleasant surprise. I can say for sure that it's ultimately down to her that I reprised my erotic writing and got into the whole ebook publishing revolution.
Funny story about her. She reads all my stories these days, and always offers a very useful female critique. But she was a little stunned recently after complaining that I didn't talk to her about my fantasies, only for me to reply that she's been reading about them for the past couple of years now. After a long pause, no doubt where she took in the implications from my wife-sharing stories, she told me she'd been thinking I was writing these stories because they were popular with my readers.
So your books are indicative of your own fantasies?
They're indicative of my fantasies at the time they are written—but what has surprised me in recent years is how much my personal kinks and fantasies have developed and changed through exploring various aspects of sexuality through my writing.
In my early days in erotica, I had no interest in writing about married couples. As far as I was concerned, married people had already completed their romantic journey, so what was there to say? I didn't really want to write about cheating and infidelity since it went against my central romantic nature. Now I'm happily married, I can see more of the subtleties and the inner conflict within such a long-term relationship, and see the interest in committed couples challenging their boundaries, or going through relationship strains in which they discover new aspects to their sexual bond. I'm still a sap for a happy ending, though.
For new readers, what's a good entry point to Max Sebastian?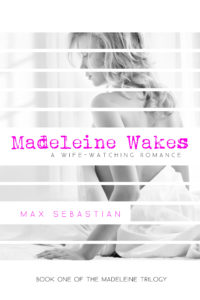 I'd say if you're a new reader curious about the wife-sharing thing—or you're already outright interested in that field—a good entry point would be the Madeleine trilogy, starting with Madeleine Wakes. It follows a married couple with a stalled sex life as they discover the thrills of voyeurism and exhibitionism, and ultimately wife-watching and wife-sharing.
While I'm writing these stories, I do tend to explore the psychological side of the whole non-monogamous experience. The inner conflict within these characters interests me. It means quite a lot of erotic suspense in my stories as characters struggle with their fantasies and whether they really want to make them real.
A good example of this is Anarchy of the Heart, which began as a straightforward story that would feature lots of group sex, and ended up as a more detailed study of the swinging experience.
You've got a new book out, What's Mine is Yours. Tell us about it.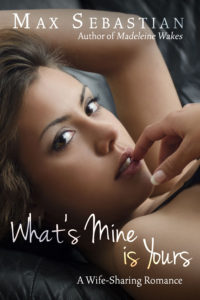 What's Mine Is Yours is a wife-sharing romance written from a slightly unusual point of view for this field: the boyfriend. In my experience, the most frequent perspective for wife-sharing erotica is either from the husband or the wife.
Set in London, England, this one follows the husband's best friend as he comes to live with the couple temporarily, and finds that they want him to get involved sexually with the wife to help them explore this new direction for their sexuality.
It actually started out as a story about two guys sharing the experience of wife-sharing. As I developed it, the story became more complex as I dealt with the protagonist's background and his own rocky marriage.
So while this book focuses on the married couple he lives with, the sequel will see him taking his new-found views on marital non-monogamy back to attempt a reconciliation with his own wife.
What can readers expect next?
All being well, the sequel to What's Mine Is Yours, called What's Yours is Mine, should be out in January.
It will be a busy end to 2014 for me, however, as I'm also currently working to get the last two episodes of my erotic murder mystery serial, A Killer of a One Night Stand, out by the end of the year.
Next year should see plenty more on the way, including some more wife-sharing stories, short stories and hopefully another femdom story.
In the long-term, I'll definitely be wanting to return to the serial novel form, which I've had a lot of fun with while writing A Killer of a One Night Stand.
---
You can read more about Max Sebastian over at maxsebastian.net. Be sure to check out his catalogue on Amazon; it's impressive and awesome and not to be missed.